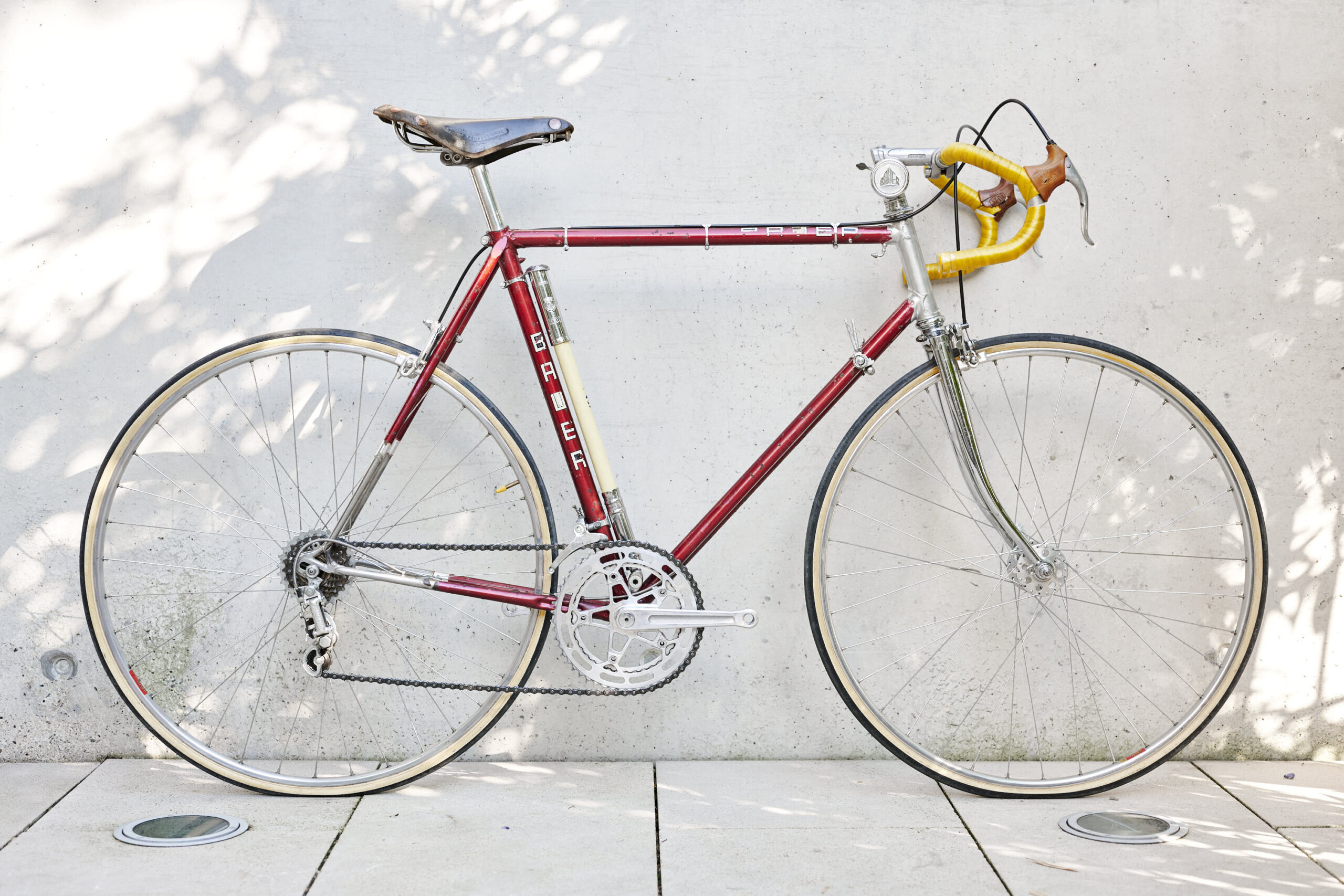 This model was designed after Heinz Müller's legendary victory in the World Road Championships in the summer of 1952 and at that time corresponded to the holy grail of German frame construction.
More expensive than a Cinelli Super Corsa
The Bauer Super Sport was the company's top model and became the German racing bike of the 50s and 60s after Heinz Müller's world championship title. The frame cost more in the early 50s than a Super Corsa frame from the Italian competitor Cinelli. The Super Sport underwent many adaptations over time. Thus, many different versions were created over time. This one is from 1965 and corresponds to the professional version, in which Nervex Professional sleeves were used.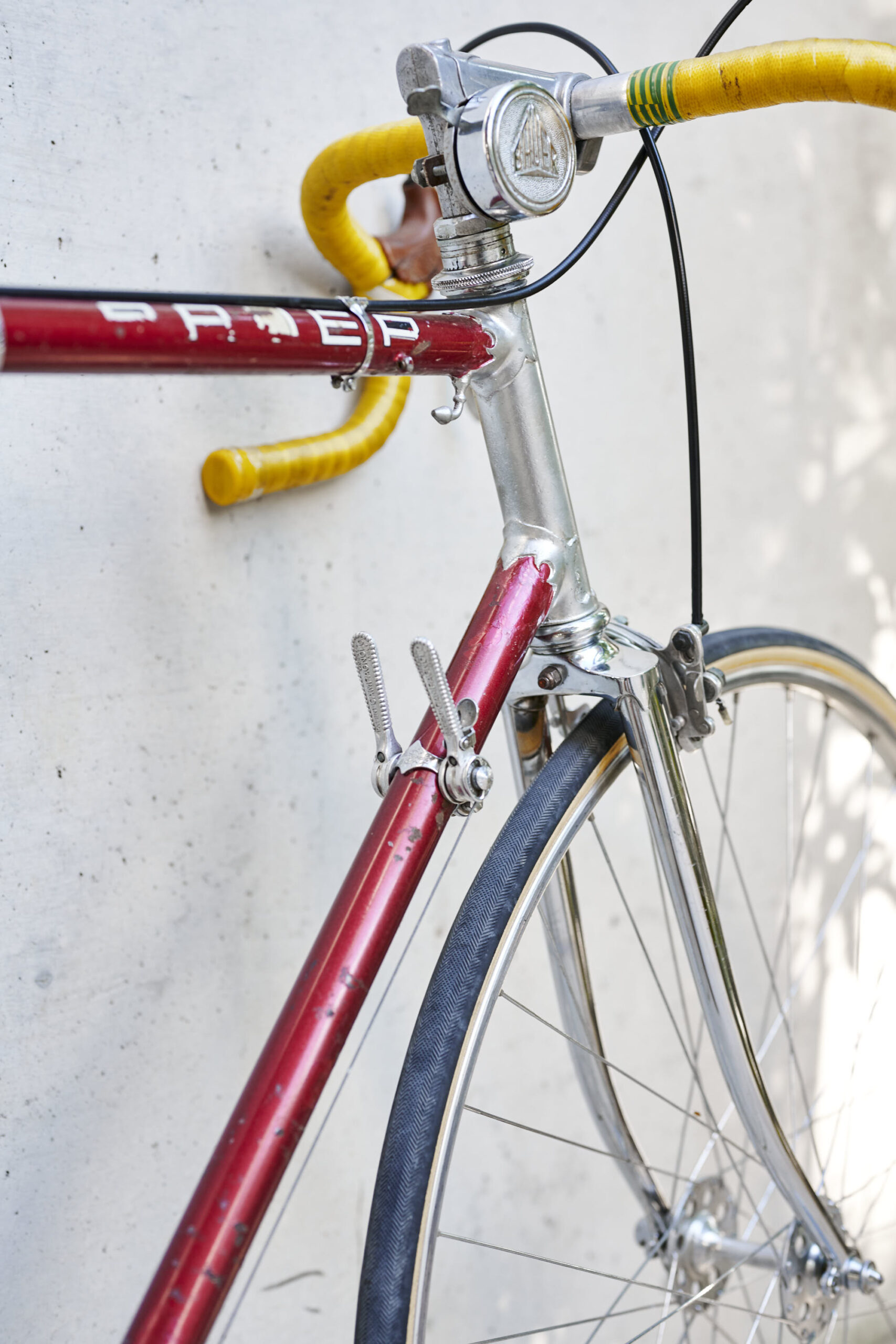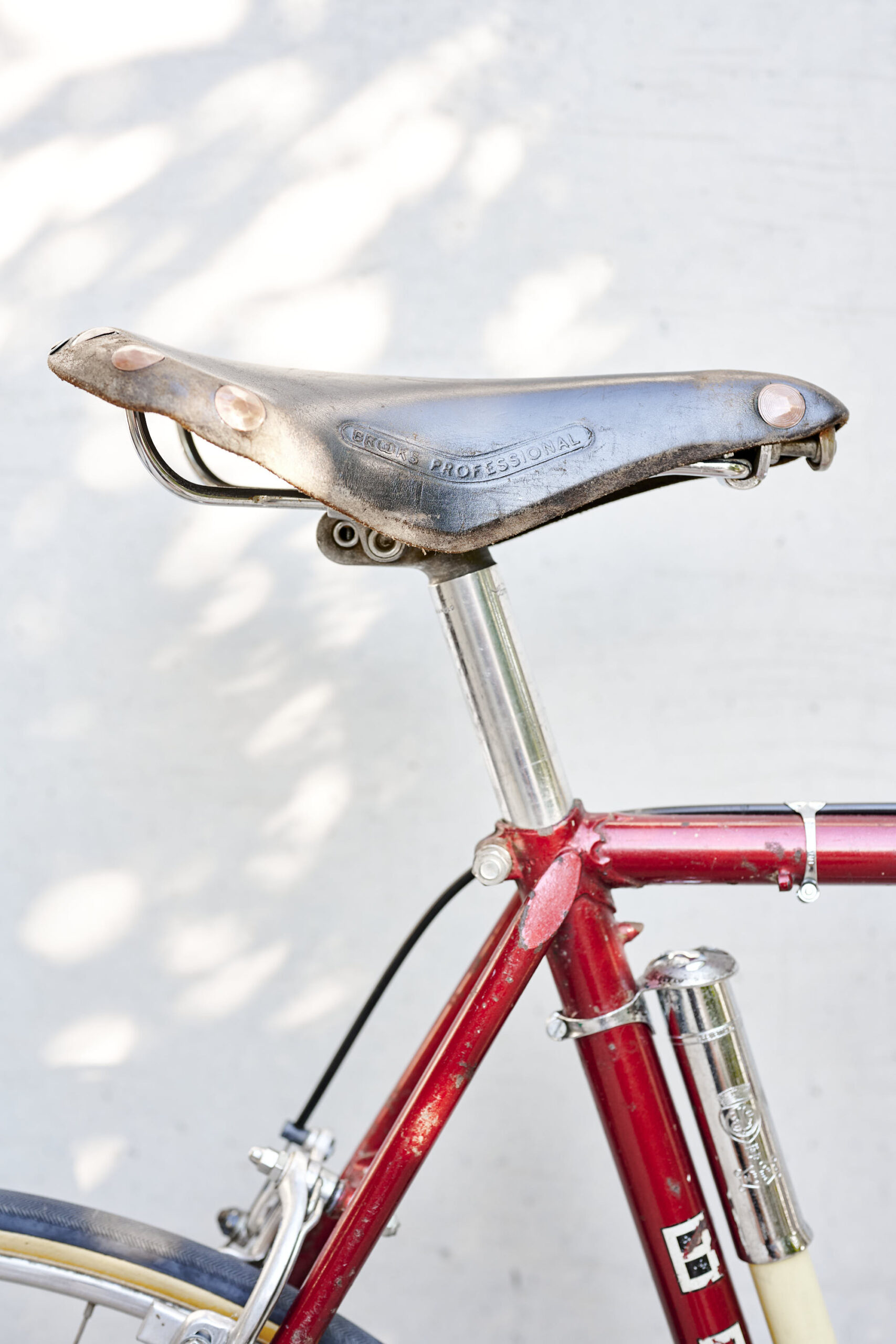 Also successful in racing
Apart from his other products, Bauer had a very versatile range of bicycles. From city bikes to touring bikes to racing bikes. Until the 1950s, Bauer even had its own racing team with this bike. Günter Pankoke, for example, rode in the Tour de France. In 1952, Heinz Müller finally succeeded in winning the Road World Championships with a time of 7 hours, 5 minutes and 51 seconds. He rode the 280 km at an average of over 39 km/h. As a result, the previous top model Bauer Supersport was given the additional title "Modell des Weltmeisters" which translates to "Model of the World Champion". The 7-time German champion Ludwig Hörmeyer and Täve Schur, the later world champion and the GDR national team also rode Bauer racing machines.
Founded in Frankfurt- Became a legend in Hanau
The Bauer company was originally founded in 1911 as a metal goods manufacturer and had to move to Klein-Auheim (Germany), which was still a suburb of Hanau at the time, only a few years after its foundation. There, the company eventually grew and employed up to 500 people who manufactured motorbikes, bicycles and bicycle accessories. Bauer always advertised with the slogan "Racing bikes from Bauer - A joy that lasts". Because one thing was known: These racing bikes were light enough to climb steep passages and still had the necessary stability for rough ground. Many young German cyclists dreamed of these bikes!
High-quality equipment from Italy for this professional racing machine
Janson's bike is equipped throughout with contemporary components from Italy. Shifting is done by a Campagnolo Nuovo Gran Sport rear derailleur and a Campagnolo Valentino front derailleur. The brakes typical Universal. In 1965 there were no Campagnolo brakes, so Universal components were used. This is the very rare elliptical Universal Extra Mod. 51 brake.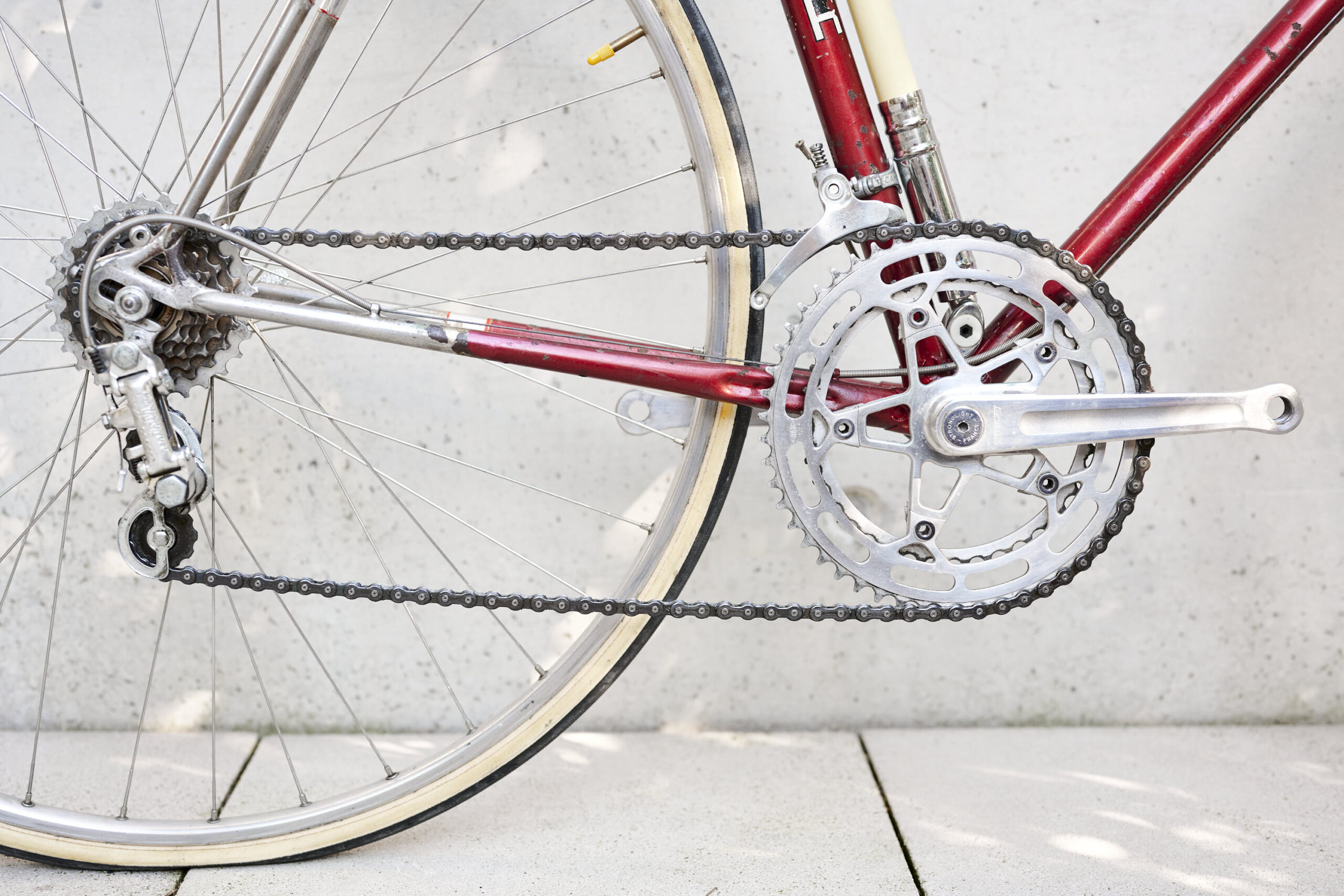 The Mavic rims run on extravagant Campagnolo Gran Sport high-flange hubs. The seatpost is of course also from Campagnolo and carries a beautiful Brooks saddle in its rails. The ITM handlebar combination was extremely hard to find at the time and, like the Stronglight 105 crank, bears witness to the racing genes of this manufacturer.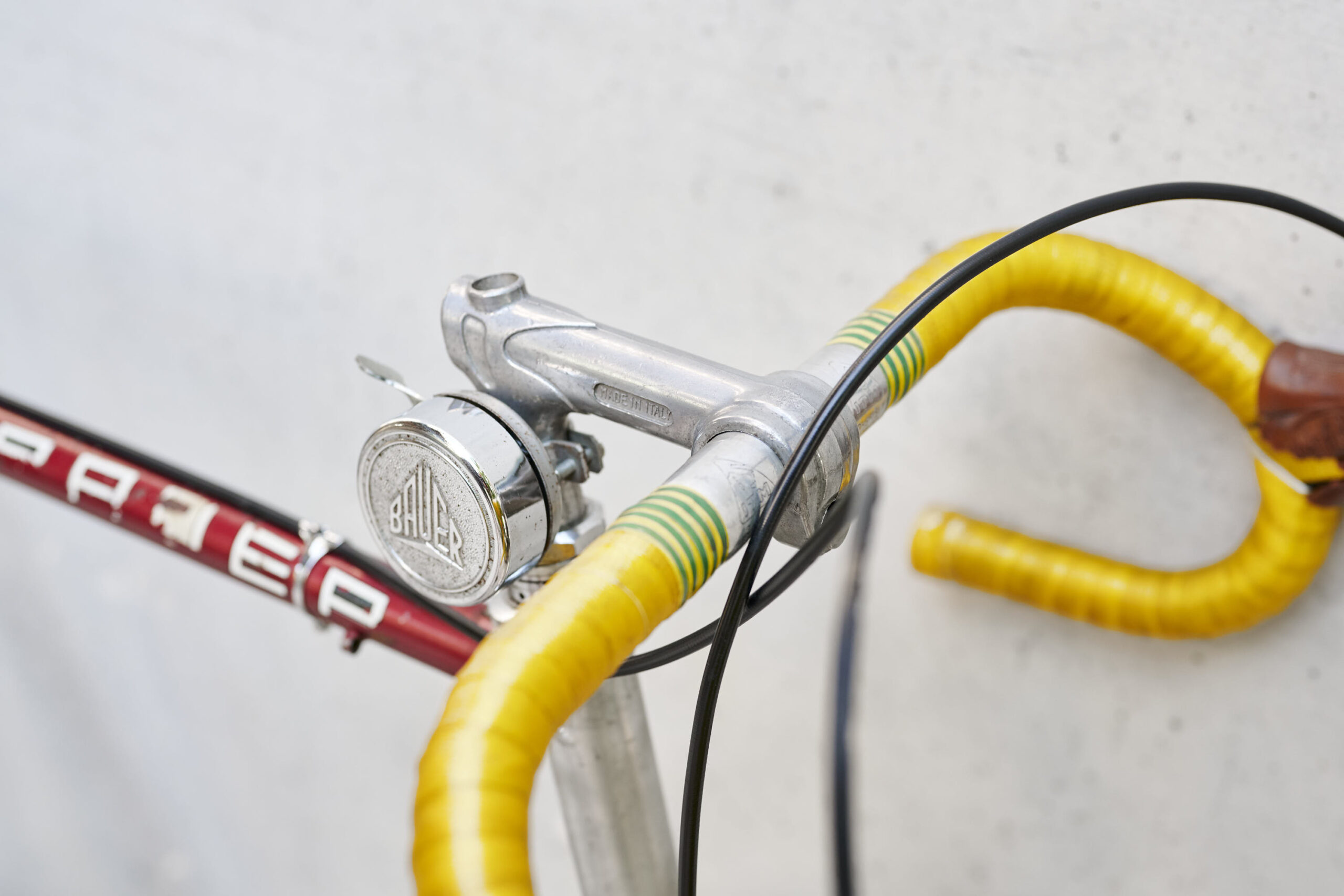 Super Sport - Modell des Weltmeisters
Original paint, no dents or cracks, the paint was partially touched up