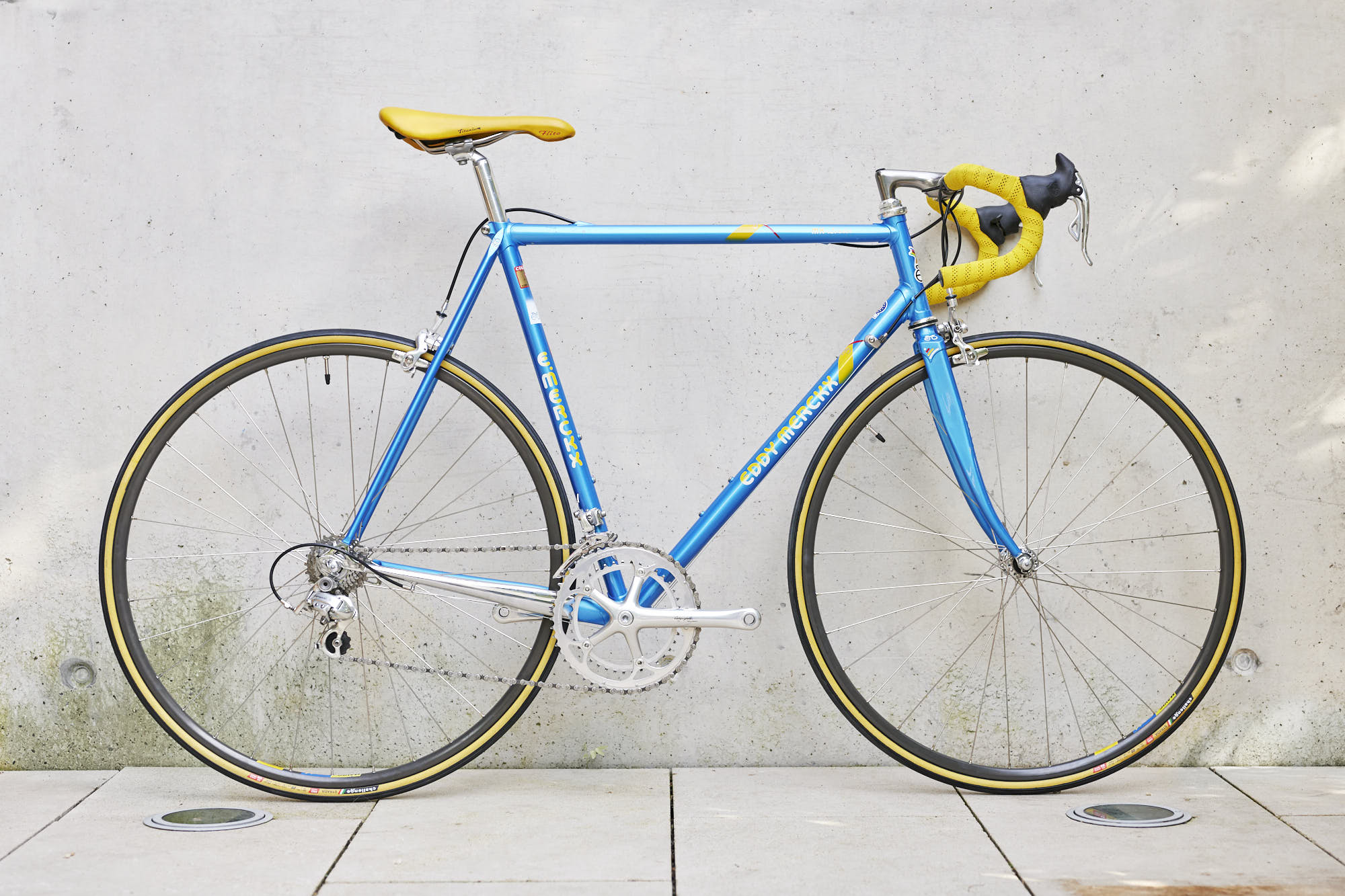 Eddy Merckx MX-Leader - Verkauft
The MX Leader is a spitting image of the attitude of its creator. The best was not enough for Mr. Merckx, so he designed his own solution with Columbus. As it turned out: With success! The MX-Leader proved itself at international level and goes down in history as one of the best lugged steel frames.
Eddy Merckx, also known as the Cannibal, is today considered by many experts as the greatest cyclist in history. To this day, he is a benchmark in terms of sporting success and the mental attitude to cycling. Absolute uncompromisingness when it comes to the matter at hand and perfectionism, especially in the technical area, led him to five titles each in the Tour de France and the Giro d'Italia. In total, he won 534 titles in 11 years during his professional career. Quantitatively and qualitatively the most successful male cyclist in history.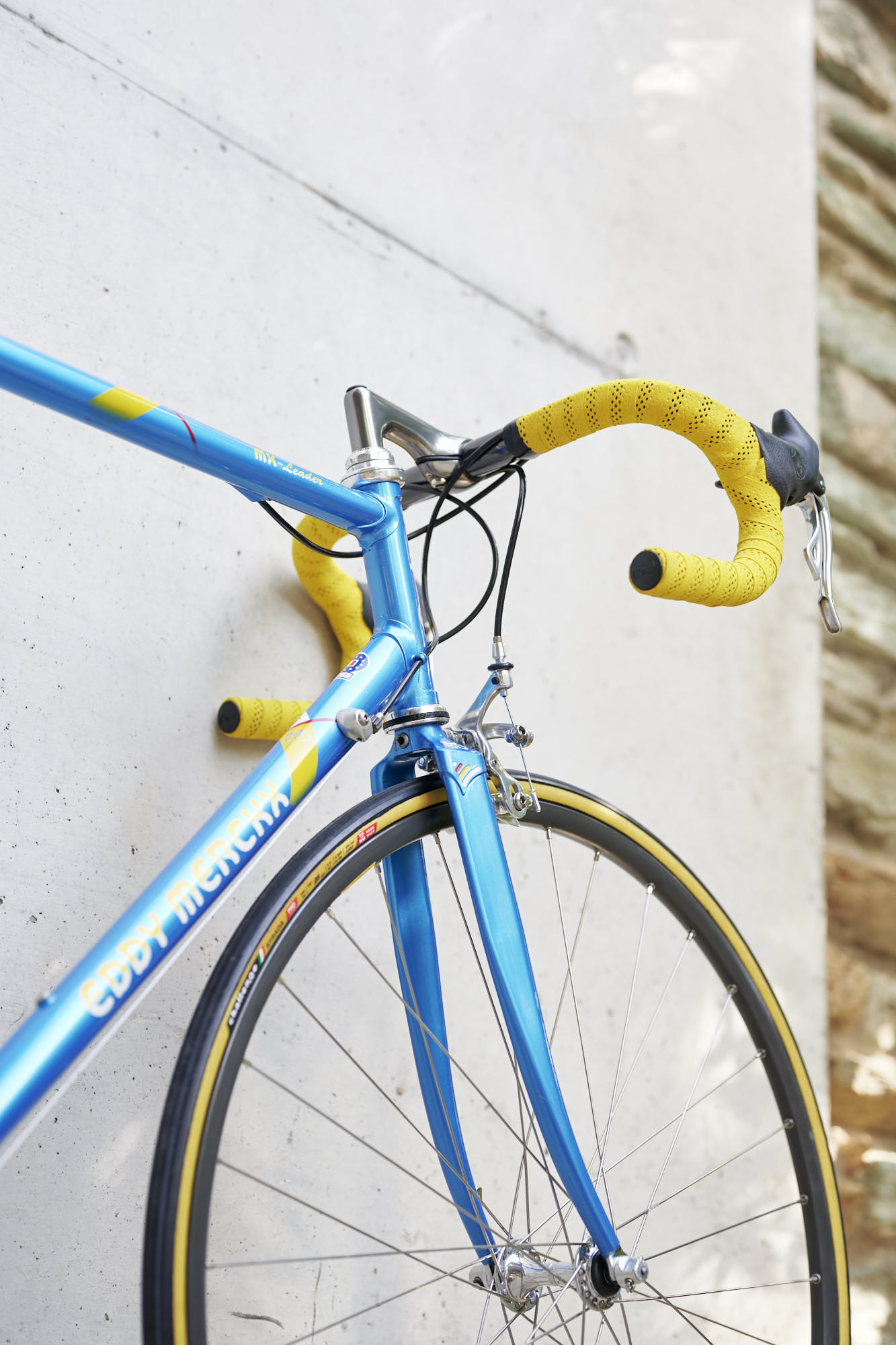 Eddy Merckx as a frame builder
After finishing his professional career, the young Belgian had no peace of mind and decided to start his own business selling bicycle frames. This venture also bore fruit quickly and within a short time he was already supplying his frames to renowned and award-winning teams. In particular, he was known for his unique advice, which you could only get from him. Eddy Merckx could regularly be met in person when visiting the factory in Meise. Among other things, he hired some of his former teammates there, with whom he still rode during his active time. This is one of the secrets behind the high quality of the frames: The employees know what it takes to build a good frame and are very demanding about it, having once ridden in the toughest conditions themselves.
The combination of two worlds is the key to success for Eddy Merckx
During his career as a racer, Merckx frequently experimented with different positions and bicycle frames to find an optimal setting for each occasion. As a racer, he had the opportunity to study the characteristics and peculiarities of virtually every type of bicycle frame. He translates this accumulated experience into his product range. Each bike offers different characteristics to suit different riders and conditions. His standards for his own products were high you before he put his own name on a bike, he had to be sure it would survive the toughest racing conditions. Every rider must be able to rely 100% on his bike.
The best was not good enough for Eddy Merckx
In 1992, the Belgians first offered a frame with oversized tubeset. The Eddy Merckx MAX. Named after the Columbus Max tubeset, this bike was designed especially for sprinters who would benefit from the high stiffness values. Columbus' MAX tubes offer an ideal combination of strength, reliability and ride quality. By using the larger tubes, even comparatively large frames remained stiff. This was probably not enough for Eddy Merckx and he subsequently entered into a collaboration with Columbus to further optimize the MAX tube set.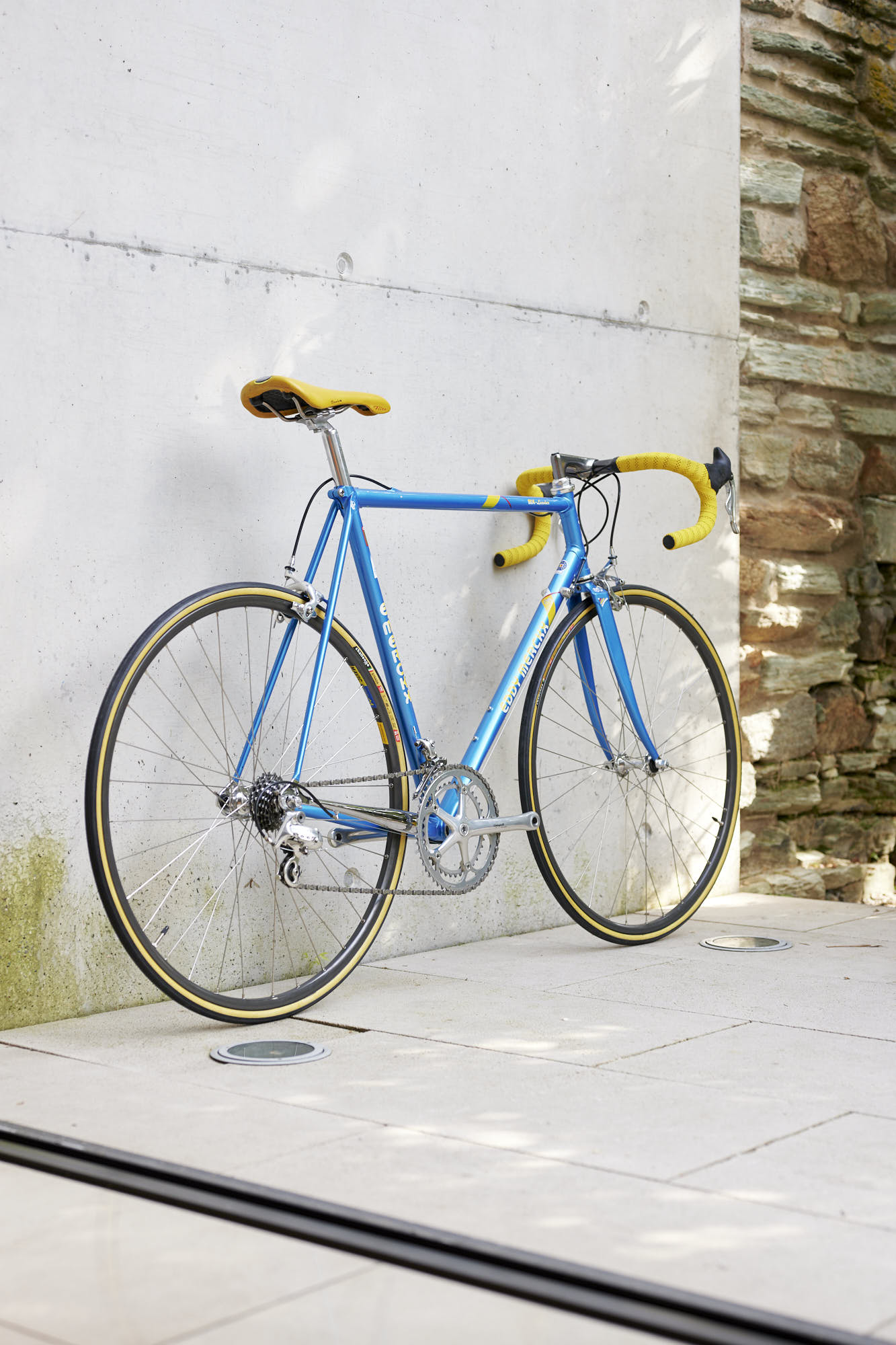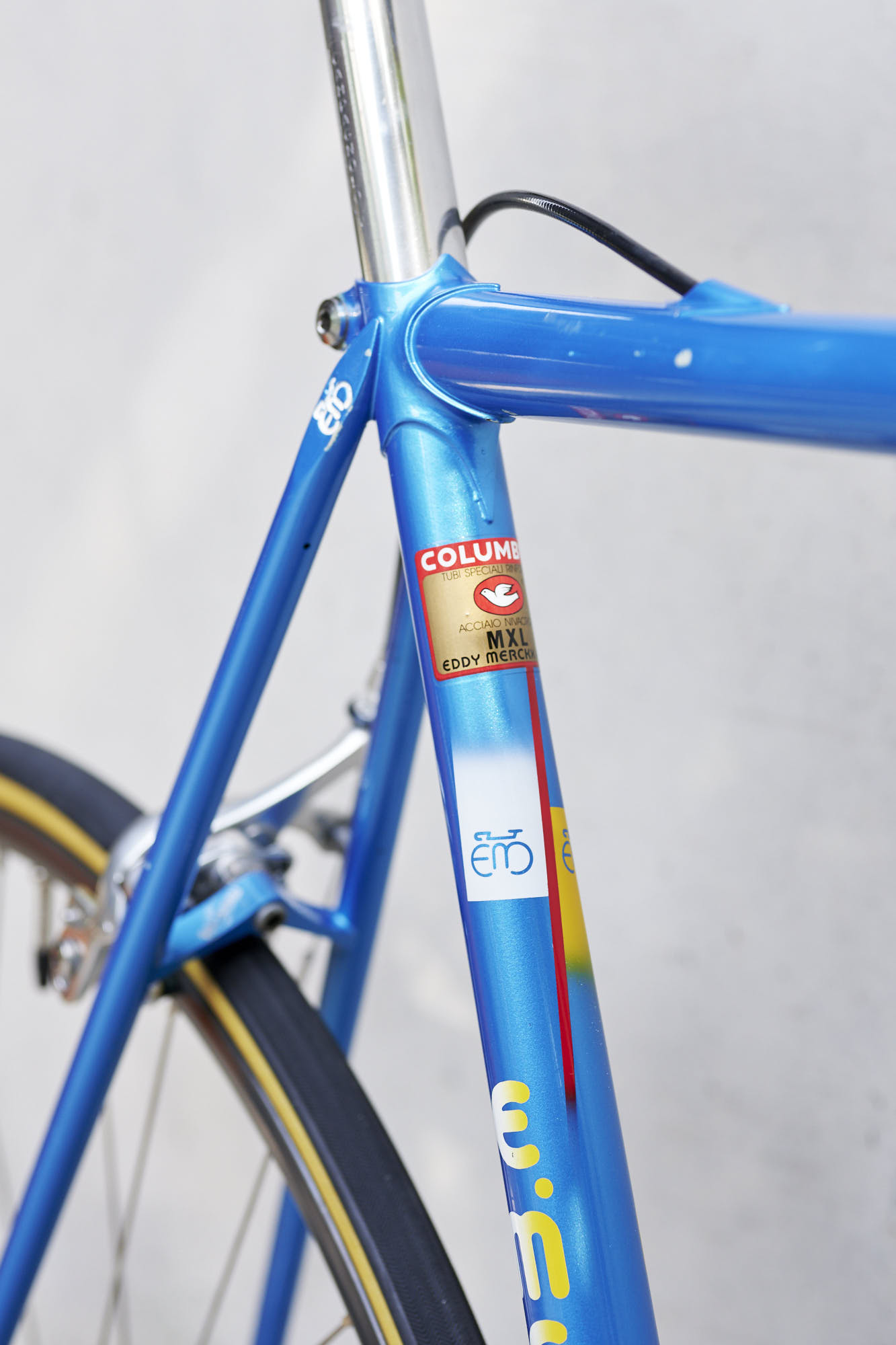 The new creation was christened MX-Leader
At first glance, the layman recognizes only a few changes. But on closer inspection, it becomes clear that separate tubes were selected in each case to meet their specific requirements and were also aligned accordingly. A mixture of Columbus MAX, Minimax and SL was chosen. Especially in the bottom bracket area, attention was paid to high stiffness. For this, the down tube and seat tube were positioned cross-oval and the chainstays high-oval. New sleeves were designed specifically for this purpose. In addition, the entire fork was revised and given a teardrop shape. Thus, it was more streamlined and stable at the same time. The change to the Eddy Merckx MAX was thus not only incremental.
The MX leader remained unforgotten
Many dubbed the MX Leader as the best all-round bike. The short wheelbase coupled with the oversized tubes make it a downhill weapon. The strong, aerodynamically shaped MAX fork blades do a great job of passing tactile information from the hub to the hands. The successful model was still built until 2005. The riding characteristics are so good that many consider it the best lugged steel racing frame ever built.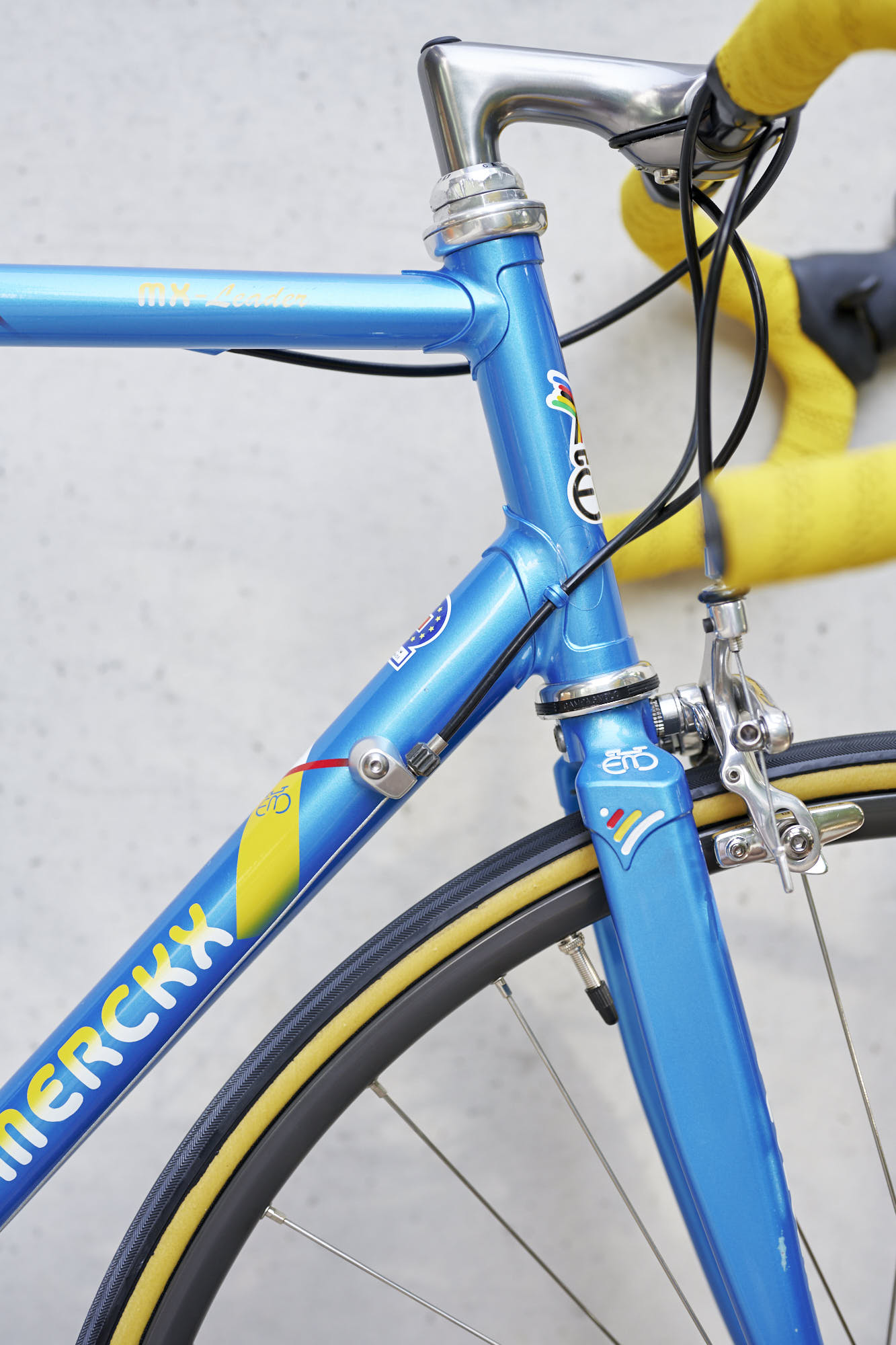 "One Lever" - "One Action"
Archrival Shimano brought in 1990 their groundbreaking STI levers on the market, with which the driver must no longer move his hands from the handlebars when he wants to shift. Campagnolo reacted quickly and supplemented its C-Record group with the first "Ergopower" levers. These were subject to the same basic idea, but were designed slightly differently. Unlike Shimano, each lever had a single function and all cables were routed directly to the handlebars. There was one brake lever and two shift levers on each side. The brake levers were each for upshifting and downshifting. This system has proven itself and is still used today in modern Campagnolo Ergopower levers.
Titanium studded components make the difference here
The Campagnolo Record Titanium group came on the market in 1996 and was the top model from Campagnolo. It was intended for professional athletes - for those athletes who fight for the last fractions of a second. Nuances made the difference between victory and defeat. So Campagnolo improves their previous Record group in many places without touching its basic design. Screws are coated with Teflon, small parts are made of titanium and bushings are coated with nickel. The weight and friction optimizations paid off and helped stars like Miguel Indurain to countless victories.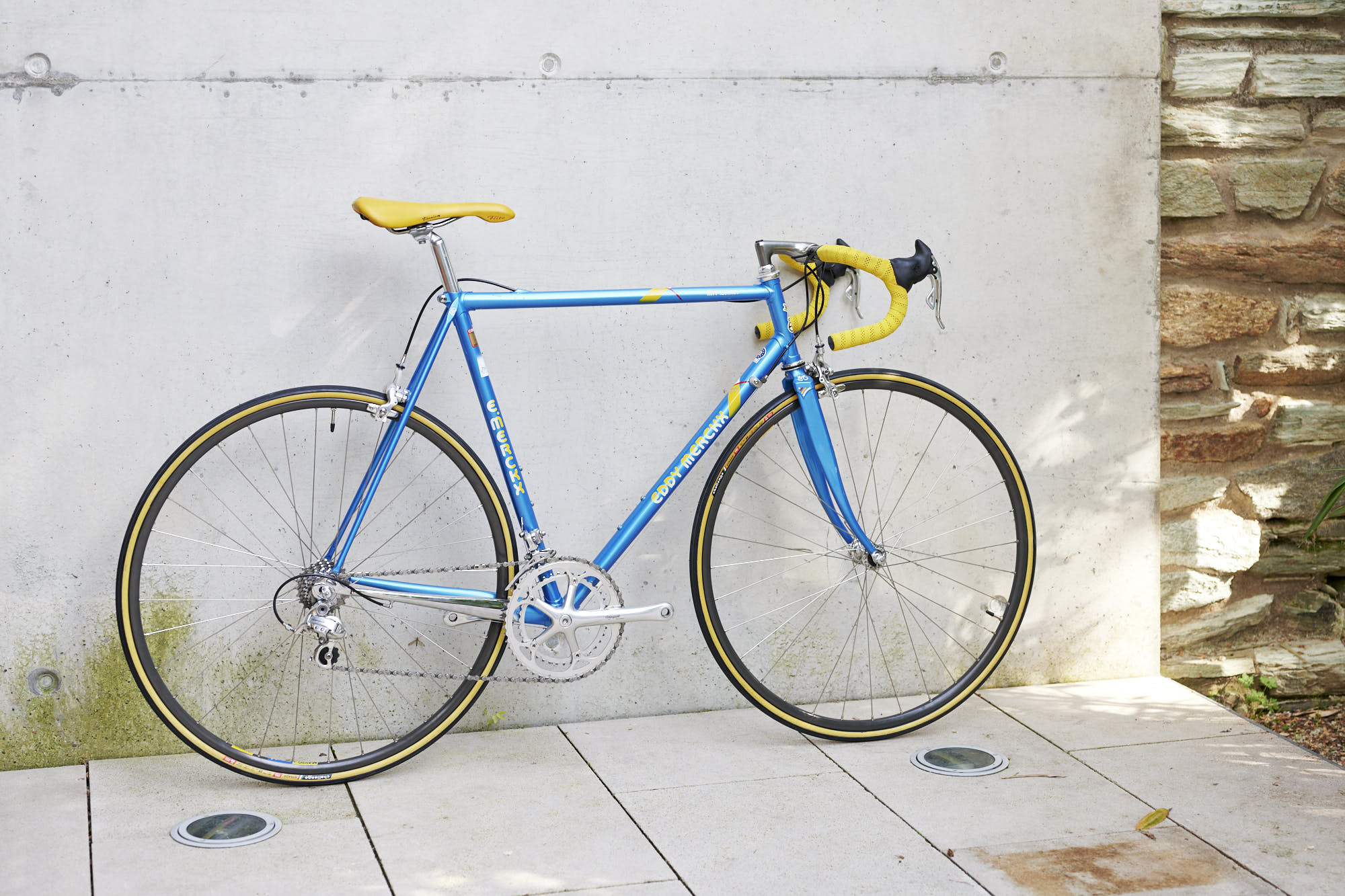 Campagnolo Record Titanium
Very good condition, No dents or cracks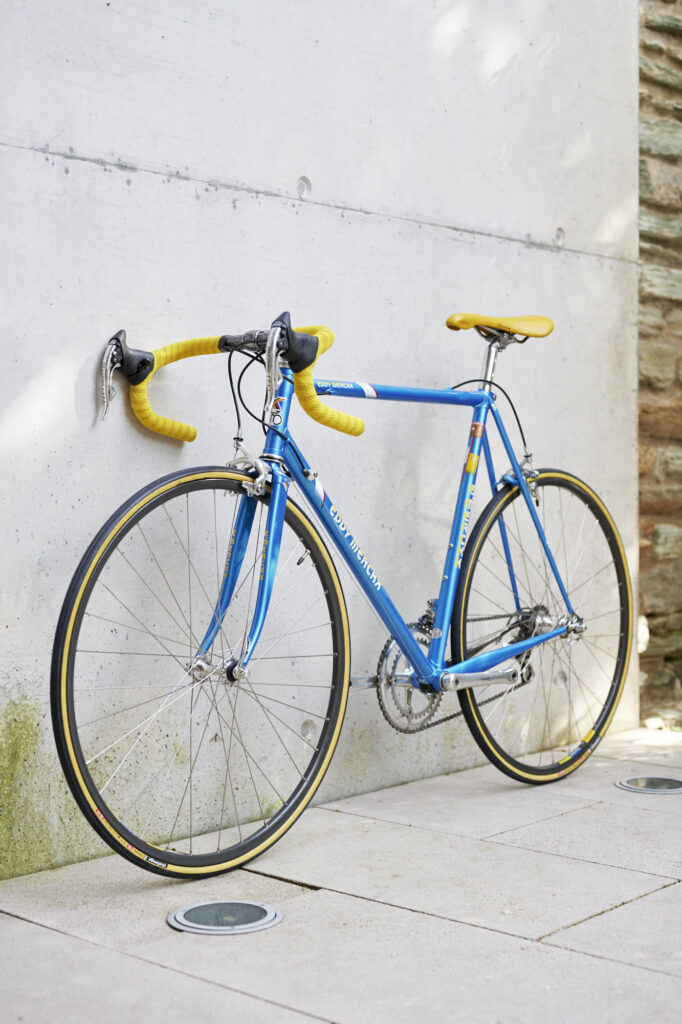 Eddy Merckx MX-Leader - Verkauft